Kiwanis Club of Holmdel
Welcome to the Kiwanis Club of Holmdel
Organized in 1965, our group of volunteers has been devoted to supporting children and families throughout our local community for the last 55 years. We are all passionate about making our community and the world a better place for children so they can thrive. We also work with other organizations throughout Monmouth County and all around the world to help them provide the support needed in their communities. We do this all through unique and innovative service projects and fundraising initiatives throughout the year.
Long Time Members of the Kiwanis Club of Holmdel Recognized at Installation Dinner on September 26, 2021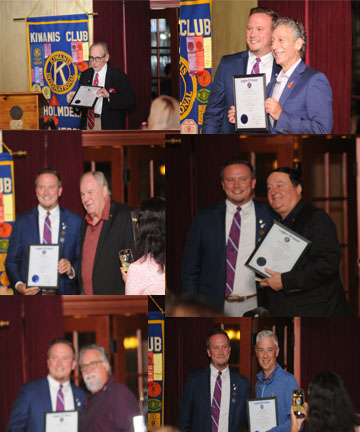 On Wednesday, September 26, the Holmdel Kiwanis held their installation dinner for the upcoming year's officers as well as recognizing long term members. Mike Mariolis was installed as President, Jen Plaia as Pesident-Elect, Thomas Di Canio as Vice President, Lenny Sasso as Secretary and Ted Labarca as Treasurer.
The following members received the Legion of Honor awards and were recognized for their years of dedicated service:

Jim Colby, Thomas DiCanio, D.J. Luccarelli, Anthony Montagna – 25 Years of Service
Dennis DeVito, Ted LaBarca,Tony Sasso – 30 Years of Service
Butch Van Pelt – 35 Years of Service
Michael Mariolis – 40 Years of Service
Holmdel Kiwanis Food Drive For Local Food Banks
During the holidays people are generous with their food donations but after January 1 when contributions drop dramatically. Recognizing this the Holmdel Kiwanis are having a food drive on three Saturdays: January 23, February 27, and March 27 2021 from 9 am to noon at the Holmdel Senior Center on Crawfords Corner Road (adjacent to the Post Office). There will be a large collection container outside the center and they can take all non-perishables, paper products, and sanitizing products.
Tom DiCannio, President, said "Hunger is particularly prevalent during these trying times. The least we can do is provide food basics to our fellow citizens and keep them – and their families – from being hungry."
Holmdel Kiwanis World Finest Chocolate Fundraiser
The Holmdel Kiwanis Club is excited about our newest fundraiser and we are looking for your support. Our members are selling World's Finest Chocolate Bars in our local community. The bars are $1 a piece and purchased directly from our members. If you have a local business and would like to support our club, you can also order them by the box (60 bars). Please visit the link above if you would like to support our club and purchase some great chocolate.
The 26th Annual Dominick J. Luccarelli Golf Outing Presented by the Kiwanis Club of Holmdel
Our Annual Golf Outing will be held on Monday, July 12, 2021 at the Jumping Brook Country Club. Please visit our Golf Outing Page for more information.
To make a donation to the Kiwanis Club of Holmdel Foundation, please visit our Donate Page or click here
What is Kiwanis?
Interested in learning more? Please contact contact us